KUALA LUMPUR, Oct 30, 2023 – (ACN Newswire via SeaPRwire.com) – Artroniq Berhad ("Artroniq"), a key contender on the ACE Market, with its' game-changing move for the Malaysian electric vehicle industry, has introduced the highly anticipated United E-Motor to the Malaysian market. This collaboration with the flagship electric motorcycle brand of Indonesian manufacturer PT. Terang Dunia Internusa ("PT TDI") signifies Artroniq's forward-thinking vision and commitment to sustainable innovations, offering promising investment opportunities.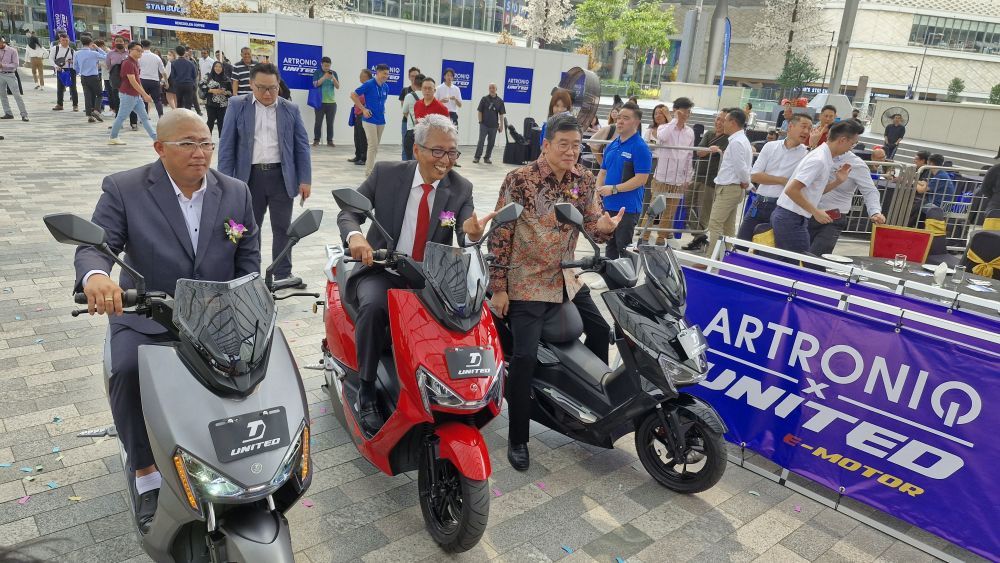 The launch event, set for 2:00 pm on 30th October 2023 at Pavilion Bukit Jalil's Piazza, will be more than just a product introduction. Alongside electric motorcycle stunt performances, attendees will experience firsthand the prowess of the TX3000 and TX1800 models. The TX3000 boasts a top speed of 90 km/h and a range of 120 km on a single charge, while the TX1800 charges from 0-80% within just 1.5 hours. Both models epitomize modern convenience with features such as built-in Bluetooth, a dedicated mobile app, and more.
The collaboration between seasoned Indonesian brand United E-Motor and Artroniq Bhd is a testament to Artroniq's strategic foresight. This partnership, formalized in September 2023, allows Artroniq to not only bring electric mobility to the Malaysian masses but also to integrate United E-Motor's advanced proprietary technology and assembly processes, further strengthening Artroniq's position in the market.
Moreover, with Malaysia being the maiden country to welcome this iconic Indonesian brand, Artroniq is slated to open experiential concept stores in three prime locations, amplifying its footprint and accessibility.
Mr. Marcus Chin Choon Wei, CFO of Artroniq, commented, "Today marks a significant stride in Artroniq's journey towards fostering sustainable electric mobility in the Malaysian market. We're exceptionally glad to collaborate with PT. Terang Dunia Internusa, a pioneer in this domain. This collaboration not only solidifies our position in the market but also stands as a testament to our commitment towards offering groundbreaking solutions for our stakeholders. I'm confident that our partnership with United E-Motor will unlock unparalleled value for our investors and contribute to a greener future."
It's noteworthy that these state-of-the-art electric motorcycles were the chosen mode of transport for world leaders at the 2022 G20 summit. With Artroniq at the helm of this introduction, Malaysian investors and consumers can anticipate a transformative impact on the country's transportation landscape.
Given the synergy between United E-Motor's legacy and Artroniq's robust capabilities, the partnership is poised for exponential growth. Ventures into the manufacturing of electric motorcycle batteries, chargers, and the groundbreaking concept of battery swapping stations highlight Artroniq's ambition and potential for expansive growth.
As at 27 October 2023, the share price of Artroniq is RM0.85, representing a market capitalisation of RM342.0 million.
Artroniq Bhd: 0038 [BURSA: ARTRONIQ] [RIC: ARTR.KL] [BBG: ARTRONIQ:MK], https://www.artroniq.com/
Copyright 2023 ACN Newswire via SeaPRwire.com.