Cambridge, MA, Nov 15, 2023 – (ACN Newswire via SeaPRwire.com) – ZAGENO Inc., the leading marketplace for life science research products, proudly announces its inclusion in the prestigious 2023 ProcureTech100. This distinguished reward is reserved for a select group of technology, data, and analytics solutions celebrated for their exceptional innovation, scalability, and transformative impact on the digital procurement landscape.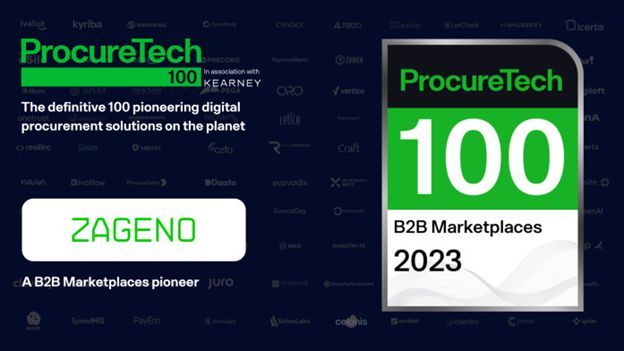 Florian Wegener, CEO of ZAGENO Inc., expressed honor in being recognized among this elite group of companies, stating, "We look forward to advancing our mission to accelerate life science research and empower procurement teams globally."
The rigorous selection process scrutinized over 5,000 global digital solutions, evaluated by esteemed procurement leaders, technology experts, and B2B investors. Dr. Elouise Epstein, Partner at Kearney, highlighted the significance of ProcureTech100 in identifying groundbreaking solutions that drive short-term benefits and long-term value in the supply chain.
ZAGENO, the leading lab supply marketplace, provides a superior selection of high-quality products from leading suppliers, emphasizing quality and convenience. Through streamlined order tracking and billing, ZAGENO simplifies and enhances the global procurement process for biotech and pharmaceutical companies. Customers benefit from the following:
Accelerate "Phase I Clinical Trial" Timelines: ZAGENO is committed to minimizing the time it takes to reach "phase I clinical trials," ensuring a swift and efficient progression through crucial research phases.
Enhance Scientist Productivity: By leveraging ZAGENO's platform, scientists can experience increased efficiency and productivity, streamlining their workflow and allowing them to focus on advancing critical research initiatives.
Strengthen Supply Chain Resilience: ZAGENO is pivotal in strengthening the supply chain's resilience for biotech and pharma companies, offering a dependable and robust procurement infrastructure that contributes to overall supply chain stability.
The announcement of the 2023 ProcureTech100 took place at the ProcureTech PIONEERS event, attracting hundreds of procurement and digital leaders. ZAGENO is honored to be featured in this exclusive list and remains committed to delivering optimal solutions for its customers.
To learn more about ProcureTech100, please visit the ProcureTech100 website.
To learn more about ZAGENO Inc., please visit the ZAGENO website.
Contact Information:
Stephanie Harold
pr@zageno.com 
+1 (857) 477-8479
Copyright 2023 ACN Newswire via SeaPRwire.com.