West Palm Beach, FL, Nov 14, 2023 – (ACN Newswire via SeaPRwire.com) – USPA Global today announced the launch of USPA 1890 fragrance in time for the holidays. From the long-standing brand that brings together elite athletes and champion horses, the award-winning "USPA 1890" is the latest classic, sport-inspired American fragrance for men. USPA 1890 will launch globally in 2024.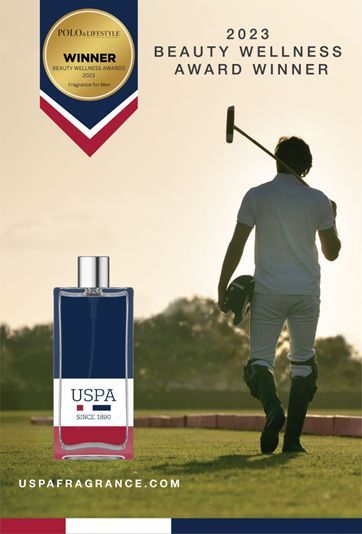 Inspired by and made for champions, the crisp, fresh scent of the USPA 1890 Eau de Toilette embodies the athletic skill and fierce competition of the game. Evoking the great outdoors, this multifaceted fragrance epitomizes the sport, fashion, and vitality of those who possess a sense of adventure and a winning spirit.
Classified as a woody aromatic, the USPA 1890 scent opens with a citrus zest of bergamot fused with juniper, elemi, and lavender. Clary sage and eucalyptus evoke cooling, herbal effects wrapped with oak moss, warm amber, and upcycled cedarwood leaving a signature essence with sporty, sophisticated appeal.
Sports fans and consumers alike can wrap themselves in the winning spirit of USPA 1890 fragrance in select stores and online at USPA 1890 fragrance. With the sport-lifestyle brand's signature red, white, and blue stripe on the fragrance's glass bottle, consumers can own a piece of the sport with USPA 1890's 3.4 fl. oz. eau de toilette spray, or the 4-piece gift set with the 3.4 oz. eau de toilette spray, a .25 travel mini spray as well as a body spray and shower gel. These options and others, some including gifts with purchase like a USPA duffle, are the perfect holiday gifts for friends and family this season.
USPA 1890 has recently won the prestigious 2023 Beauty and Wellness Award, Fragrance for Men from POLO & Lifestyle Magazine. The Beauty and Wellness Awards celebrate and encourage the use of all varieties of skincare, beauty, and tools while spotlighting the market-leading companies that stand above their competition and provide quality products in their field. Winners were selected by a global judging panel after months of product usage and evaluation.
About USPA Global
USPA Global is the for-profit subsidiary of the USPA and manages the sport-inspired multi-billion-dollar USPA brand, providing the sport with a long-term source of revenue. USPA Global is also the parent company of Global Polo Entertainment (GPE), which broadcasts the sport globally to millions of viewers on ESPN and multiple other platforms.
Contact Information
Stacey Kovalsky,
Senior Director,
Global Communications,
skovalsky@uspagl.com
+001.561.790.8036
Kaela Drake
PR & Communications Specialist
kdrake@uspagl.com
+001.561.461.8596
Copyright 2023 ACN Newswire via SeaPRwire.com.